Filter by Subcategory
Social Media
Online Registration Unavailable
Social Media for Business Certificate
with LERN Courses Online
Get in on this exciting and growing way to communicate, market and serve your customers and clients. For businesses, nonprofits, government and other organizations. From Facebook to Twitter, blogging, YouTube, LinkedIn and more, discover the new principles of communication that apply across all networks and how these specific social networks work and the possible uses for your organization. Learn more about this online certificate >>
This certificate includes three courses that can also be taken individually: Introduction to Social Media, Integrating Social Media in Your Organzation and Marketing Using Social Media.
Online Registration Unavailable
Video Marketing
with LERN Courses Online
Discover how to use simple online video to quickly bond with your viewer, drive traffic to your website, boost business and build brand awareness. Find out how to shoot simple, effective videos without costly fancy equipment or savvy technical skills. Discover the secrets to creating content that commands attention. Learn how to dominate Google and YouTube with your video and to strategically use YouTube to market your business 24/7 -- even while you sleep. Learn more about this online course >>
Receive a Certificate in Mastering Video Marketing, if you take Video Marketing and YouTube for Business.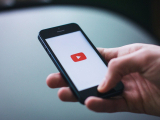 Online Registration Unavailable