Filter by Category
Sign Language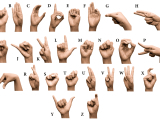 Intro to American Sign Language
with Patrick Moody

Mar 4, 2024 at 6:30 pm

, runs for 6 weeks
**THIS CLASS HAS BEEN RESCHEDULED FOR MARCH 4 - APRIL 15, 2024**
Do you have a desire to learn American Sign Language (ASL) to better communicate with friends, family, or people around you that are deaf? In this introductory course, instructor Patrick Moody will teach communicative sign language and how to adequately fingerspell. You will learn how to sign the alphabet and have a good starting vocabulary to strike up a conversation with the deaf community around you. You will learn about Deaf Culture in the United States and the history of the impact of deaf individuals.  
This 6-week in-person class will be held on Monday evenings March 4-April 15, 2024 from 6:30-8 p.m. 
Cancellations: To cancel a class, five (5) business days' notice prior to the course starting date is required to withdraw and receive a refund. 
Online Registration Unavailable
Discover Sign Language
with Ed2Go Online
Gain confidence in your ability to sign with the Deaf community. This course immerses you in silence to help you gain an understanding of the perspective of the hearing impaired and uses videos to demonstrate not only how to make signs, but how to communicate with facial expression. Learn more about this online course >>