Filter by Category
Embroidery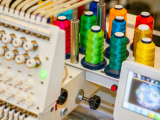 Embroidery, Appliqué and More!
with Deann Castleberry

Mar 2, 2023 at 5:30 pm

, runs for 8 weeks
Embroidery is a substantial skill and developing it is well worth the time invested in learning it. Are you interested in learning the art of embroidery or appliqué? Have you considered purchasing an embroidery machine for business? In this 16-hour training course, instructor Deann Castleberry will teach you how to use a Brother PR1050X 10-Needle Home Embroidery Machine and the Artistic Design digital software to embroider for hobby or business. You will take store bought items to the next level by customizing your projects, learning how to embroider names, initials and patterns onto clothing and household items. Feel free to bring your own projects and bring your own machine if you currently have one. This is an opportunity to explore the world of embroidery, tap your creativity and gift yourself or your family with a slew of personalized, unique gifts. This class will be held on Thursday nights from 5:30-7:30 p.m. 
Financial Aid Scholarship Available For This Course: 
This course is approved for an Arkansas Workforce Challenge (AWC) Scholarship award (up to $800) provided by the Arkansas Department of Higher Education (ADHE). To be eligible, you must be 18 years of age or older, an Arkansas resident and must have a high school diploma or equivalent. 
APPLY FOR THE SCHOLARSHIP:
Step 1: To receive 100% tuition free scholarship for this training, you must apply here >> Arkansas Workforce Challenge Scholarship by creating an account. Upon completion of the application, you will be notified via email by ADHE, typically within 7-10 business days, that you have been offered the scholarship. You will need to accept the offer for the award which covers your tuition 100%. If the scholarship is not finalized, you will be billed for the cost of the course and payment is due within 30 days of the final day of class.
REGISTER FOR THE CLASS:
Step 2: Reserve your seat by registering for the class. To defer payment pending receipt of the scholarship funding, click Register and apply the following promo code at check out: 1embroidery23. Select Check Out, then in the upper right corner, select Add promo code and enter the code: 1embroidery23. Click the + (plus) sign to update your cart. By applying this promo code, you are agreeing to comply and fulfill the terms and conditions listed in Step 1.  
What if I fail to apply the promo code?
If you fail to apply the promo code, your credit card will be charged the full course fee of $499.00 and reimbursement will be provided after the course is completed.
For questions, call 870-612-2082. 
Cancellations: To cancel a class, five (5) business days' notice prior to the course starting date is required to withdraw and receive a refund.